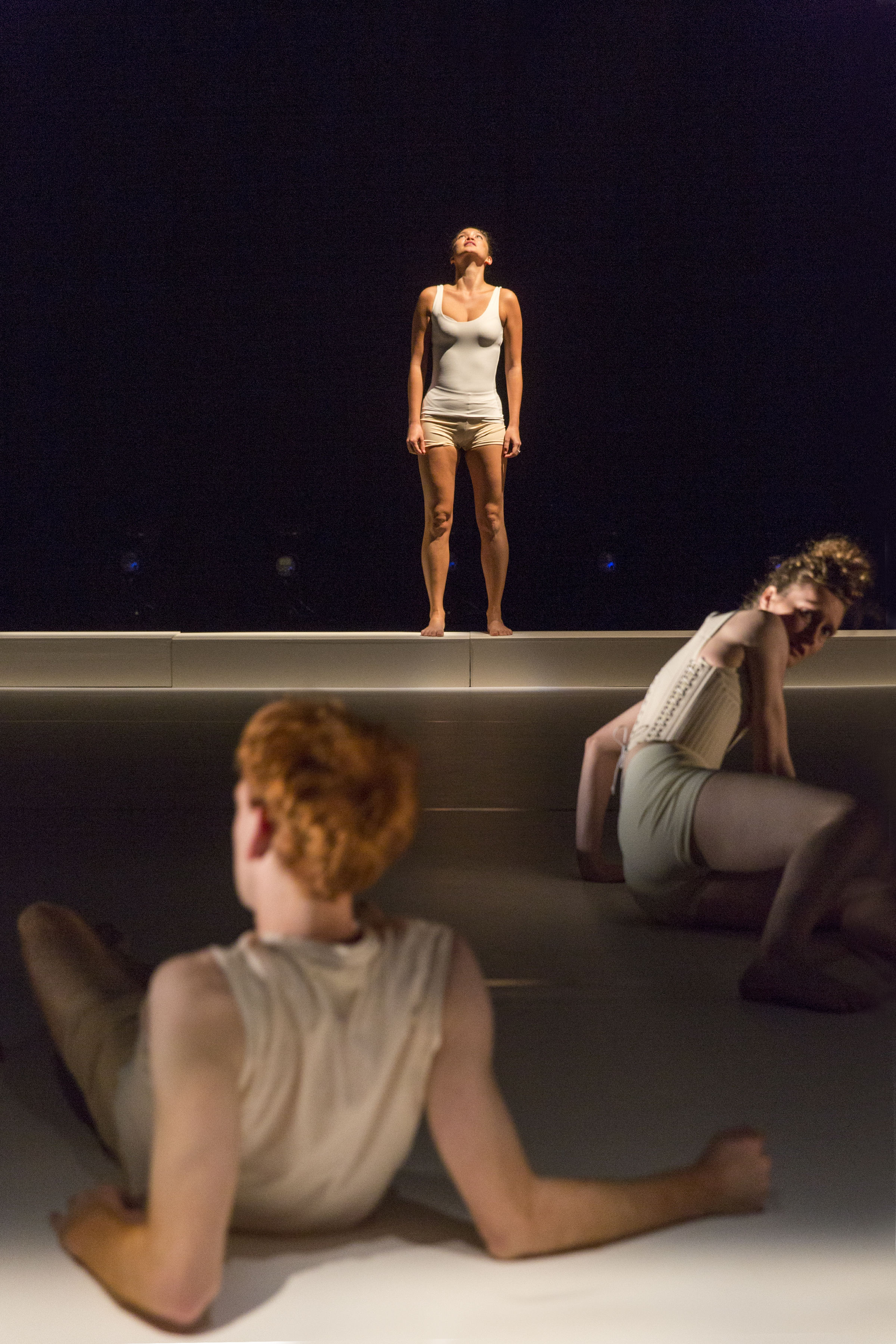 Romeo & Juliet
DUMBO, Brooklyn at the GK ArtsCenter
29 Jay Street, Brooklyn, NY.
Performances through April 22, 2016.
Brooklyn fell in love with Aquila's take on the classic love story!
"This is a fast paced, visually arresting, physically engaging, emotionally electric production."
Check out what else the critics said here
Recognized world-wide as one of theater's most iconic couples, Romeo & Juliet are the very archetype of tragic young lovers. Set against the backdrop of warring households, young Romeo sneaks into a masked ball where he first beholds Juliet and is thunderstruck by Cupid's arrow. As fate dictates, they succumb to the passion of forbidden love against the will of their powerful and unforgiving families. So ensues a story of romance, murder and tragedy as famous as any that has graced the stage. Through Shakespeare's beautiful prose, these star crossed lovers, in Aquila Theatre's striking and moving adaption of the Bard's classic tragedy, will take your breath away.
Aquila Theatre will bring its innovative style and dynamic physical approach to Shakespeare's most famous and heart-breaking play. The New Yorker has raved that Aquila Theatre's productions are "Beautifully spoken, dramatically revealing and crystalline in effect.
Please view our trailer here.
Cast
Kirsten Foster (Juliet) trained at the Bristol Old Vic Theatre School. She was born and grew up in Hong Kong, and received a Bachelors degree in Drama and Theatre Studies from Royal Holloway, University of London. Recent theatre credits include: Pig Girl (Finborough, Theatre), Lennon (Royal Court Liverpool) and Around the World in 80 Days (New Vic). Recent television credits include: ITV's Jekyll and Hyde, Law and Order: UK and Lewis; Sky's Critical and BBC's Eastenders.
Peter Groom (Paris, Nurse, Tybalt) trained at the Guildford School of Acting. Theatre credits include: MEAT (Schaubühne, Berlin), Ring of Fire (Courtyard Rep Company), Talking Heads (Triple C Theatre). Dance credits include: The Taming of the Shrew (Stuttgart Ballet), Nur Du (Tanztheater Wuppertal) and "One Side To The Other" (Akram Khan Company).
Michael Rivers (Romeo) trained at East 15 Acting School. In 2011 he founded the acclaimed theatre company d'Animate. Recent theatre credits include: Continental Fist Fight (Shakespeare's Globe Theatre), Dear Darwin (National Theatre Madrid), Samuel Beckett's Rough's (The Phoenix Theatre), Bitesize Chekhov (The Courtyard Theatre), Super Tramp (One Man Show at Edinburgh Fringe), A Mid Summer Nights Dream (Shakespearence RSC), and The Green Room (The Mill Arts Centre). Television Credits include: Casualty (BBC), Doctors (BBC), Shameless (Channel Four), The Cafe (Sky One), Locked Up Abroad (National Geographic /Raw TV), and Of Gods And Mortals (Sky Pilot). Commercials include: Oral B, HTC and UBS. Michael is also a freelance Director and Writer. He is currently working on The Land Doth Sing And Cry with d'Animate.
Jackie Schram (Lady Capulet) trained at The New School for Drama in New York. Originally from outside Boston, she is now based out of New York City. Theatre Credits include 'Woman' in The 39 Steps (US Tour), Queen Elizabeth I in The Lost Colony (Waterside Theatre), Essie in You Can't Take It With You (Florida Repertory Theatre), Princess of France in Love's Labour's Lost (New School for Drama), and Skriker in Caryl Churchill's The Skriker (New School for Drama).
Hemi Yeroham (Mercutio, Friar Lawrence) was born in Istanbul and trained at the Guildford School of Acting. Highlights from his work are Stage: Farid, the Genie, in Operation Magic Carpet (Polka Theatre), David in Single (UK Tour), Jester in Arabian Nights (Tricycle Theatre), Caliban in The Tempest and Quince in A Midsummer Night's Dream (Cambridge Shakespeare Festival), Sirwan in 66 Minutes in Damascus (LIFT Festival & Sao Paolo Biennal, Brazil), Prince Khalifa (Best Actor Award) in Yo Valet! (New Diorama), Sayid in Mathieu Kassovitz's La Haine (Netherlands Tour), Gus in Cradle Will Rock (Arcola Theatre), Orhan in Shadow Language (Theatre 503), Ahmad in The Container (site-specific regional tour), Tranio in The Taming of the Shrew (Bridewell Theatre). Television and film credits include: Ramy in Tyrant (FX, US), Salim in Common People (Sky Atlantic), Emin in Closed Circuit (Working Title) and Dimitri in Mamma Mia (Universal). Radio credits include: Turnpike Lane (Urban Scrawl), The Long View, Ambridge Extra, Forgiving, The Cool Bag Baby and Poppyseeds (all for BBC). Hemi can be seen in the latest global campaign for Turkish Airlines. He also regularly works as a voiceover artist, recording a wide range of work from in-flight announcements for major airlines to video games.
Creative Team
Desiree Sanchez, Director/Adaptor/Production Designer, has directed this season's production of Romeo & Juliet and The Adventures of Sherlock Holmes and the past productions of The Tempest and Wuthering Heights for the 2014/2015 season, and the past productions of Twelfth Night and Fahrenheit 451 for the 2013/2014 season, A Female Philoctetes at BAM Fisher's Hillman Studio, The Taming of the Shrew and Cyrano de Bergerac for the 2012/13 season, Herakles at BAM in March 2013 and the Festival of the Aegean in Syros, Greece and the Michael Cacoyannis Foundation in Athens in July, 2012, Macbeth and The Importance of Being Earnest for the 2011/12 season, and Six Characters in Search of an Author for the 2010/11 season; created movement for Aquila's A Very Naughty Greek Play (Aristophanes' Wasps), Catch-22, Julius Caesar, The Iliad: Book One and The Comedy of Errors; performed in The Iliad: Book One at The Festival of the Aegean in Syros, Greece; and was the lead teaching artist for Aquila's Shakespeare Leaders program in Harlem. Desiree had a twenty-year dancing career including working as a principal dancer for the Metropolitan Opera Ballet where she worked under the direction of numerous directors and choreographers that included Francesca Zambello, Mark Lamos, Doug Varone, John Dexter, Franco Zeffirelli, Julie Taymor, and Andrei Konchalovsky. Other companies and choreographers she has worked with include the Boston Ballet, Neo Labos Dancetheatre, Donald Bryd/The Group, Sean Curran, Gelsey Kirkland, Bill T. Jones, Heidy Latsky, Eun Me Ahn in Korea, and Robert La Fosse. She has also collaborated with the Winnipeg Contemporary Dance Company of Canada and the Delfos Danza Compania of Mexico. She performed for the Papermill Playhouse as a featured dancer in the musicals, Carousel and The King and I. She has also taught at Long Island University, as a visiting associate professor of dance, Elliot Feld's Ballet Tech and has a Certificate of Movement Therapy from The New School and is a proud graduate of Walnut Hill School of the Arts.
Joe Louis Robinson, Composer, creates scores and arrangements for a range of projects across live and recorded media. Recently he devised and composed Step One - a new bilingual musical playing in Beijing, China. As an arranger and orchestrator, his credits include Fings Aint Wot They Used T'Be (London) Christina Bianco: Party of One (international tour), and Been On Broadway (London). Discography includes arrangements/music supervision of Julie Atherton - Rush of Life, Been On Broadway and The Songs Of Joe Louis Robinson. Current projects include an adaptation of A Dolls House as a chamber musical, workshopping in London. Although multifaceted in style, particular areas of interest include verbatim music theatre and procedurally generated music. He currently holds a lecturing post at the Institute of the Arts, Barcelona.
Rick Sordelet, Fight Director, is widely regarded as the top Fight Director in the United States. He and his son, Christian Kelly-Sordelet have created Sordelet Inc, a new action movement company for all entertainment media. They have 66 Broadway shows to their credit including Disney's The Lion King, Beauty and the Beast, Wolf Hall, Waiting for Godot/No Man's Land and Misery with Bruce Willis. They have worked on hundreds of productions Off-Broadway, Regional Theater, and internationally, such as Ben Hur Live at the O2 Arena in London. They have an extensive background in stage and theatrical sword fighting and edged weapons tactics. Rick is the only Fight Director to ever stage the fights for a Superbowl Halftime Show (XXIX) as well as stunts and fights for over a thousand episodes of Guiding Light during his 12 years as their Chief Stunt Coordinator. Rick teaches at Yale School of Drama and has also taught at the Neighborhood Playhouse, NYU, HB Studio, Rutgers and the New School of Drama in New York City. He sits on the board for the Shakespeare Theater of New Jersey. In addition to his stage work, he and David Blix are partners in Sordelet INK, an electronic publishing house. www.sordeletINK.com
Alberto Segarra, Lighting Designer. Recent credits include: Seed, choreography by Megan Morse-Jans; Way, choreography by Jessie Laurita-Spanglet; Under the Mountain, choreography by Sarah Beth Oppenheimer; The Only Thing is Itself and Wrestling with the WIP, choreography by Nicole McClam; Insert [ ] Here, choreography by Sharon Mansur; My Tempest, choreography by Ana Patricia Farfan; Twilight LA; 1992, directed by Caroline Clay; Good Kids, directed by Seret Scott; and the Maryland Opera Studio's Magic Flute and L'ocassione fa il ladro, directed by Nick Olcott. Other credits include: El indio en América (Exhibition, 2006) at Museo de las Américas; One on this Island; Celia... Vida y música; Hair; Cabaret; La Charca; Boeing Boeing, Dangerous Liaisons; Glass Menagerie; El Josco; La llamarada; La Cage aux Folles; Evita and La Mina de Oro at Teatro Repertorio, University of Puerto Rico; Oedipus, directed by Orion Jones (Catholic University, Washington DC); the opera Carmen, directed Megan Morse-Jans; and Ballet Concierto de Puerto Rico's Festival de Coreógrafos and A Midsummer Night's Dream. Mr. Segarra has been a Lighting Designer for Compañía de Danza 21 (CODA 21), and Resident Lighting Designer and Technical Director for Andanza Compañía de Danza Contemporánea. He is a founding member of Teatro Repertorio de la Universidad de Puerto Rico. Mr. Segarra holds a BA from the University of Puerto Rico and a MFA from the University of Maryland - College Park. Mr. Segarra is a member of the American Scenic Artist Local 829.
Clare Amos, Costume Designer, trained at London College of Fashion. She has previously designed the costumes for Aquila Theatre for Twelfth Night, Fahrenheit 451, and The Taming of the Shrew.
Previous Costume Design includes: Lovesong of an Electric Bear (The Hope Theatre, London) The Firebird (Corbett Theatre), Once Upon A Nightmare (Courtyard Theatre, and Edinburgh Festival), Enduring Song (Southwark Playhouse), The Day Shall Declare It (Marylebone Gardens/Los Angeles Performance Practice),The Shape of Things (Associate Costume Design, Arcola Theatre), The
Door (Park Theatre), A Scent of Flowers (The Brockley Jack), Early Days (Finborough Theatre), The 8th Continent and Microwave (Tristan Bates Theatre), Top Girls and Victory (Waterloo East), Celebrity Night at Cafe Red (Trafalgar Studios - Revival), The Hit (Set and Costume Co-design, Hotel Indigo), Translunar Paradise, The Big Smoke and Odyssey (Theatre Ad Infinitum, Edinburgh Festival and International Tours), Dido & Aeneas (Associate Costume Design, Coming Up Festival/Silent Opera), Emperor Self (Arcola Theatre),Women of Manhattan (The Old Red Lion Theatre), 'Dentity Crisis and 2+2+2 (Kings Head Theatre). Nerea Villares worked as Costume Maker on this production. Special thanks to Anett Black and Victoria Smart, for their assistance with the design.
Robert Rogers, Technical Director, is also Aquila Theatre Company's Production Manager. Bob has been involved in Technical Theatre for 10+ years, however, his most recent endeavors include Production Manager/Technical Director for Penobscot Theatre, Technical Director for Gretna Theatre, and Technical Director for Aquila's 2014-15 tour season. He has also been involved with everything from Assistant Tent Boss for the Zerbini Circus or a Chief Pilot of Maintenance at a $2.5 million dollar helium balloon in TN. Bob's also been to Qinhuangdao, China where he was the Technical Director for an international cooperation project for the theme park show: Snow White's Birthday Adventure!
James McDaniel, Costume Technician/Capulet Dress Designer, graduated from the University of Houston with an MFA in costume design and technology. At U of H he designed Our Lady of 121st Street, Mother Courage and Her Children, Philadelphia Story, The Narrator, Brick Wall, and two faculty choreographed dance pieces. Other Houston designs include MacBeth for Stark Naked Theatre Company and Tea and Sympathy for Back Porch Players. James has also designed costumes for two full-length modern dance productions, Regifting Lions choreographed by Toni Valle and Catalina Molnari and Shifting Spaces choreographed by Theresa Chapman and featuring the artwork of artist Lucinda Cobley with special performances at the Wade Wilson Art Gallery.
Gus Jacobson, Company Stage Manager, is also Aquila Theatre Company's Company Manager. Gus has a Bachelors in Educational Theatre from NYU with a focus on Performance and Dramatic Literature. He teaches and performs extensively with companies in New York and abroad, including most recently The Yellow Finch Project, a company devoted to creating theatre for young audiences with Autism.
The National Endowment for the Arts in partnership with Arts Midwest presents Shakespeare in American Communities. Aquila Theatre is one of 40 professional theater companies selected to participate in bringing the finest productions of Shakespeare to middle- and high-school students in communities across the United States. This is the 13th year of this national program, the largest tour of Shakespeare in American History.
For more information, visit www.shakespeareinamericancommunities.org.