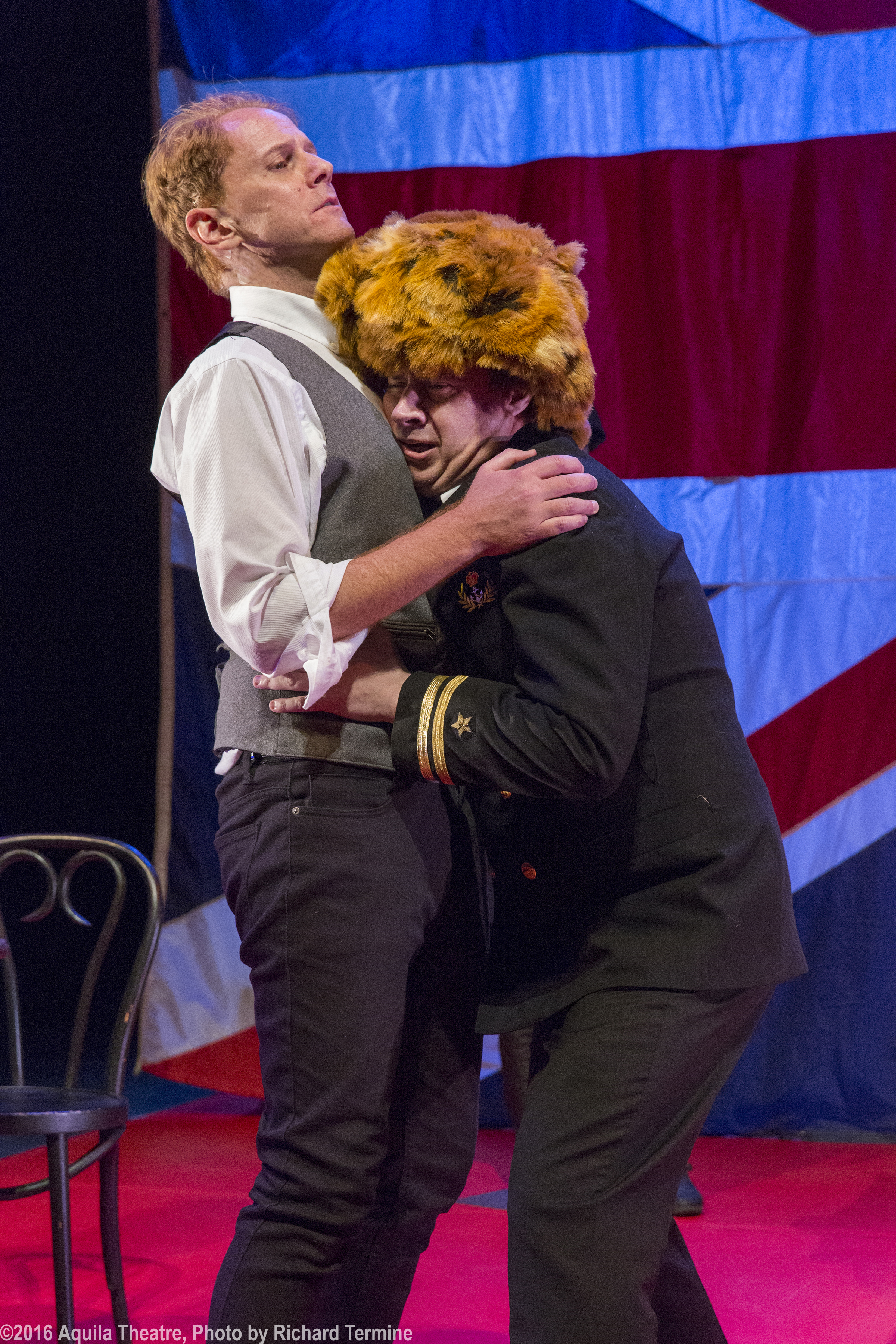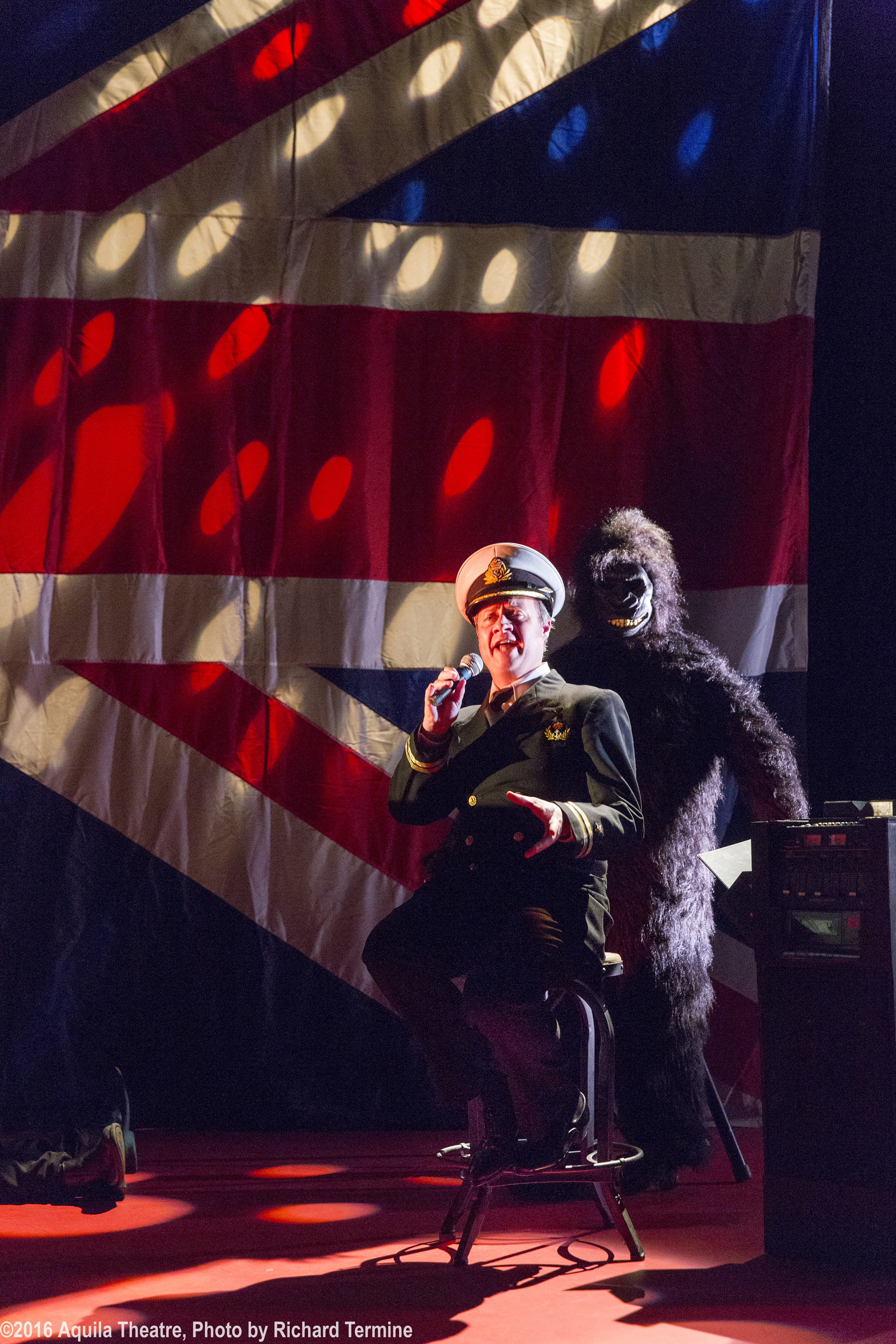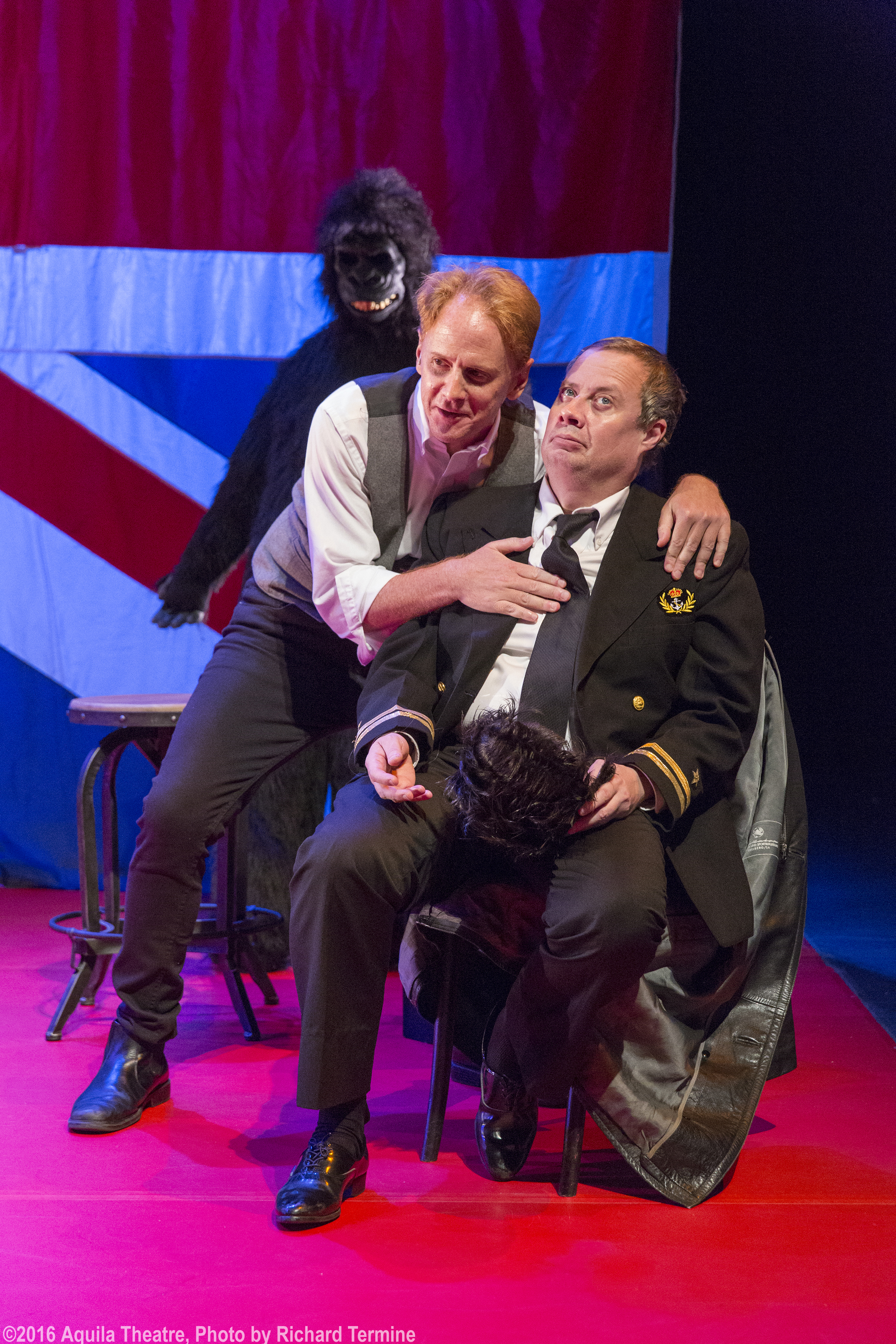 Much Ado About Nothing
Shakespeare's great comedy, Much Ado About Nothing, highlights Aquila Theatre's 25th anniversary season. Spying, subterfuge, deception, false identities, slander, manipulation, and love all take part in this wonderfully entertaining battle of the sexes.

Much Ado About Nothing, thought to have been written in 1598, belongs to a group of Shakespeare's more mature romantic comedies. It is an exuberant, philosophical, and festive play excelling in combative wit, melodrama, and potential tragedy. Much Ado About Nothing is wonderfully intricate, flush with surprising twists and turns, and articulated in expert language.

Aquila Theatre's original Much Ado opened in Boston and toured the United States in 2000/2001. It was performed in 60 American cities, ran for nearly a year including Off Broadway in New York, was performed at the White House for the President and First Lady, and was then revived at the La Jolla Playhouse in 2006. The New York Times described the show as "Outstanding . . . almost unbearable fun. . . gleefully engaging . . . and directed with inspiration." The New Yorker hailed it as "Just plain cool . . . beautifully spoken, dramatically revealing, and crystalline in effect." Aquila's original Much Ado was a Critic's Choice for Time Out, The Village Voice and The New York Times.
Lincoln Hudson trained at the Mountview Theatre School in London and has been a professional Actor for 25 years. His work includes: Badin the Bold (Red Lion Theatre), Joseph & His Amazing Technicolor Dreamcoat (Really Useful Group), Hot Stuff (Bill Kenwright Ltd), Hancock's Last Half Hour (Covent Garden Studio Theatre), The Green Parakeet/Macbeth (Greenwich Studio Theatre), The Arcadians (Kings Head Theatre), Les Misérables/ Oliver (Cameron MacKintosh Ltd), My Fair Lady (Royal National Theatre), Funeral Games (Drill Hall, London), Northanger Abbey (Queens Theatre, Hornchurch), The Wizard of Oz (Birmingham Repertory Theatre), Dick Whittington (Haverhill Theatre, Suffolk), The Invisible Man/Twelfth Night (Aquila Theatre, US National Tour), Miracle on 34th Street (Pitlochry Repertory Theatre), Love (Cirque Du Soleil), Shakespeare's Roses/American Hamlet (LV Shakespeare Theatre), and Dark Lady of the Sonnets (Royal National Theatre). Lincoln's TV & Film work includes: Sex and the City (HBO), The Bill (Carlton TV), Unique Species (Channel Five), Charlie (Midas Films), The Alan Clark Diaries (BBC TV), and Murphy's Law (Thames TV). Lincoln is also a Writer and Independent Filmmaker. He has made four documentaries, one of which, Speak-Easy, won the 2010 LA Film Awards. He is an immigrant from the UK and incredibly proud to be an American Citizen.
James Lavender trained at Rose Bruford College of Theatre & Performance in Kent, UK. He has appeared in many Aquila Theatre performances, including: The Tempest & Wuthering Heights (2014-15); A Female Philoctetes (2014); Twelfth Night & Fahrenheit 451 (2013-14); The Importance of Being Earnest & Macbeth (2011-12); As You Like It & An Enemy of the People (2010). James' other theatre credits include: Henry V (Antic Disposition); Much Ado About Nothing (Lord Chamberlain's Men); Cinderella, Peter Pan & Jack & The Beanstalk (Sheringham Little Theatre); Adventures in Wonderland & Supermarket Shakespeare (Teatro Vivo); Aladdin (Hazlitt Theatre); Twelfth Night, The Comedy of Errors & The Importance of Being Earnest (Oxford Shakespeare Company); Jack & The Beanstalk (Millfied Theatre) Headlines (Battersea Arts Centre); Sleeping Beauty (Georgian Theatre Royal); Jack & The Beanstalk (Prince of Wales Theatre, Cannock); The Jungle Book (Birmingham Stage Company); The Two Gentlemen of Verona (Greenwich Playhouse); Plebians Rehearse the Uprising (Arcola Theatre); Macbeth & The Taming of the Shrew (British Shakespeare Company); Hamlet & As You Like It (Groundlings Theatre Company); Scar Tissue (Man In The Moon Theatre). His television credit includes: The Golden Hour (ITV).
Palmyra Mattner is a Syrian/German graduate from the conservatory program at the Stella Adler Studio of Acting. She grew up on the Middle Eastern island of Bahrain where she made her first foray into the world of acting by participating in local theatre. Having played parts from 'Mary Adams' in Amanda Whittington's Be My Baby, to 'Penelope Toop' in Philip King's See How They Run, she received a diverse taste of roles under her belt. During her time in New York, Palmyra has expanded her acting portfolio to include: 'Beatrice' in Much Ado About Nothing, 'Ranevskaya' in The Cherry Orchard, 'Zinaida' in Ivanov, 'The Captain' in Commedia Extravaganza, 'Little Stone' in Euridyce, as well as multiple roles in The Winter's Tale. She has also had the opportunity to perform self-written pieces with the Stella Adler Studio's Outreach at the Phoenix House, as well as originating the role of 'Mother' in Fay Simpson's adaptation of Raymond Carver's Scotty.
CREATIVE TEAM
Desiree Sanchez, Director/Adaptor/Production Designer, has directed this season's production of Romeo & Juliet and The Adventures of Sherlock Holmes and the past productions of The Tempest and Wuthering Heights for the 2014/2015 season, and the past productions of Twelfth Night and Fahrenheit 451 for the 2013/2014 season, A Female Philoctetes at BAM Fisher's Hillman Studio, The Taming of the Shrew and Cyrano de Bergerac for the 2012/13 season, Herakles at BAM in March 2013 and the Festival of the Aegean in Syros, Greece and the Michael Cacoyannis Foundation in Athens in July, 2012, Macbeth and The Importance of Being Earnest for the 2011/12 season, and Six Characters in Search of an Author for the 2010/11 season; created movement for Aquila's A Very Naughty Greek Play (Aristophanes' Wasps), Catch-22, Julius Caesar, The Iliad: Book One and The Comedy of Errors; performed in The Iliad: Book One at The Festival of the Aegean in Syros, Greece; and was the lead teaching artist for Aquila's Shakespeare Leaders program in Harlem. Desiree had a twenty-year dancing career including working as a principal dancer for the Metropolitan Opera Ballet where she worked under the direction of numerous directors and choreographers that included Francesca Zambello, Mark Lamos, Doug Varone, John Dexter, Franco Zeffirelli, Julie Taymor, and Andrei Konchalovsky. Other companies and choreographers she has worked with include the Boston Ballet, Neo Labos Dancetheatre, Donald Bryd/The Group, Sean Curran, Gelsey Kirkland, Bill T. Jones, Heidy Latsky, Eun Me Ahn in Korea, and Robert La Fosse. She has also collaborated with the Winnipeg Contemporary Dance Company of Canada and the Delfos Danza Compania of Mexico. She performed for the Papermill Playhouse as a featured dancer in the musicals, Carousel and The King and I. She has also taught at Long Island University, as a visiting associate professor of dance, Elliot Feld's Ballet Tech and has a Certificate of Movement Therapy from The New School and is a proud graduate of Walnut Hill School of the Arts.
James McDaniel, Costume Designer, is grateful to be returning to Aquila for the 2016-17 Season after having designed the Capulet parachute dress for Aquila's 2015-16 production Romeo & Juliet. James is currently the Assistant Costumer at Syracuse Stage and the Costume Coordinator for Syracuse University. James has a Master of Fine Arts in Costume Design and Technology from The University of Houston and a Bachelor of Fine Arts in Theatre from the University of Oklahoma. At The University of Houston, he designed Our Lady of 121st Street, Mother Courage and Her Children, The Philadelphia Story, The Narrator, and Brick Wall. Other Houston designs include MacBeth for Stark Naked Theatre Company and Tea and Sympathy for Back Porch Players. James has also designed costumes for two full-length modern dance productions, Regifting Lions, choreographed by Toni Valle and Catalina Molnari, and Shifting Spaces, choreographed by Theresa Chapman and featuring the artwork of artist Lucinda Cobley.
Peter Meineck, Lighting Designer, founded Aquila Theatre in 1991 and worked extensively in theater in London, New York and throughout Europe. He has produced and/or directed more than 50 professional productions of classic drama and has lit many of Aquila's shows. Favorites include: Iliad (1999), Cyrano (2001), Catch-22 (2009), Macbeth (2011), Fahrenheit 451 (2013). He is currently Professor of Classics in the Modern World at New York University where he specializes in ancient performance and the application of cognitive science to the study of the ancient world. Peter has published widely on ancient drama and culture including several volumes of translations of ancient plays with Hackett Publishing. He is also Honorary Professor of Humanities at the University of Nottingham. He is a graduate of University College London (BA hons. Ancient World Studies) and the University of Nottingham (PhD Classics). Peter also serves as a Firefighter Captain and EMT in Westchester, NY.
Chase Duhe, Sound Designer, is a native of Baton Rouge, Louisiana. A graduate of the New York Conservatory of Dramatic Arts, he is a musical theater-trained performer turned stage manager. Recent Credits include Aquila's 2015 Fall Season of Romeo & Juliet and The Adventures of Sherlock Holmes, NYC Fringe Festival's The Universe of Matt Jennings, and Customary Radicals' production of Old Haunts. He spent the last year as the Production Stage Manager for ACCESS BROADWAY Theatre Competition.
technical TEAM
Robert Rogers, Technical Director, has been involved in Technical Theatre for over ten years. His most recent endeavors include Production Manager/Technical Director for Penobscot Theatre, Technical Director for Gretna Theatre, and Technical Director for Aquila's 2016 Spring and 2014-15 Tour Seasons. He has also been involved with everything from Assistant Tent Boss for the Zerbini Circus to a Chief Pilot of Maintenance at a $2.5 million dollar helium balloon in Tennessee. Additionally, Bob spent time in Qinhuangdao, China, where he was the Technical Director for an international cooperation project for the theme park show: Snow White's Birthday Adventure!
Thomas P. Swetz, Production Manager, holds a Bachelor of Arts in Theater Arts – Performance Option from Western Connecticut State University. Tom's training is varied from Stage Combat to Voice, Acting to Technical Direction. For the last 24 years, Tom has owned a dance studio in Lagrangeville, NY with his wife, Jacqueline. He is a proud member of the New York State Theater Educators Association (NYSTEA); the Society of American Fight Directors (SAFD), where he is a certified Combatant in Single Sword, Broadsword and Shield; and, the Society of American Magicians (SAM). He has worked on the NBC series Mercy, the Harrison Ford movie, Morning Glory, and the Showtime series, The Big C. Tom spent three years performing for Hersheypark, with his last year in a show he wrote, produced, directed and performed. Tom is also the Scenic Designer/Technical Director at Arlington High School in Lagrangeville, NY. He has been a professional magician for 35 years. For more info please see www.redmagik.com.
Dana Gal, Company Stage Manager, hails from the Midwest. After earning a Bachelor of Arts from Arizona State University and doing her stage management fellowship at American Conservatory Theater in San Francisco, she continued to work in the Bay Area and various summer stocks on the east coast. Since moving to New York a few years ago, she has been working with Third Rail Projects on their hit productions Then She Fell and The Grand Paradise. Dana is thrilled to work with Aquila Theatre Company on her first tour.
Alexa Haynes, Costume Technician, is a recent graduate of WCSU. Her credits include costume designing WCSU's Under the Lid and The Snow Queen, as well as being the assistant to the designer for WCSU's Cat on a Hot Tin Roof.
Alex Duncker, Assistant Stage Manager, is originally from Jackson Hole, WY, and holds a Bachelor of Arts in Technical Theatre from the University of Vermont. Now based out of New York as a Stage Manager and freelance Sound Designer, Alex is thrilled to join the Aquila Theatre team to continue her career of innovative theatre-making. Her most recent endeavors include Sound Designer for Iron Crow Theatre Company in Baltimore and her fourth consecutive year as Production Stage Manager and Technician for the Jackson Hole Playhouse. In addition to her professional career, Alex also created, wrote, and directed a devised theatre project titled Pregnant with Famous that she plans to continue working on in the future and served as a Student Ambassador for the Global Art Corps.
The National Endowment for the Arts in partnership with Arts Midwest presents Shakespeare in American Communities. Aquila Theatre is one of 40 professional theater companies selected to participate in bringing the finest productions of Shakespeare to middle- and high-school students in communities across the United States. This is the 13th year of this national program, the largest tour of Shakespeare in American History.
For more information, visit www.shakespeareinamericancommunities.org.